Home
Welcome to Tollerice Tollers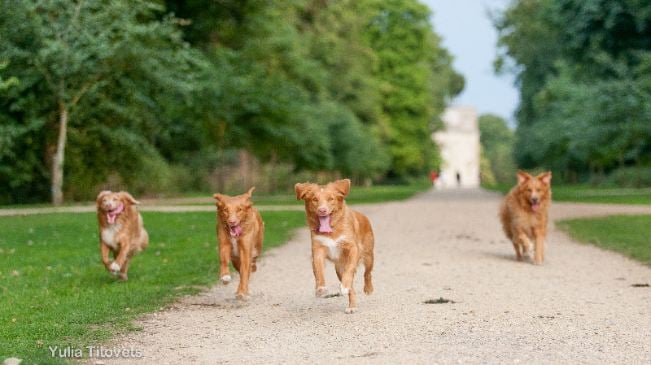 Welcome to Tollerice Tollers, they are owned by Samantha and Peter Rice. We are based in Wiltshire and currently have 5 tollers; Brodeur, Voros, Kadri, Redden and Daney. We have been interested in the breed for the last 15 years and have owned tollers for over 12 years.
Our dogs are primarily pets so they live in the house and are involved in our day to day lives. Samantha handles the dogs in a variety of disciplines: obedience, rally and conformation shows.
With regards to breeding, importance has been placed on health, temperament and type. Our dogs have been hip and elbow scored as well as DNA tested for PRA and CEA. A great deal of time is spent in selecting suitable mates with regards to health and temperament. This way we can ensure that the pups will be clear of any inheritable eye diseases, as well as reducing risks of any other health problems occurring. Our aim is to breed healthy and well-tempered pups.
Nova Scotia Duck Tolling Retrievers (Tollers) are bright, energetic dogs. They need plenty of mental and physical exercise. They are people dogs that are fun loving so can be relied on to do something goofy to put a smile on your face. They are a versatile breed and will turn their paws to anything.
Bincknoll Agility Show 20th October 2012



Photos taken by Mike Venner - A Star Photography
Voros in the Inter-regional team at Crufts 2012


Photos taken by Yulia Titovets - Four Little Paws
Samantha is a member of the Toller Club UK .
Tollerice is a member of the KC Assured Breeder Scheme and we adhere to all requirements and recommendations for the breed.
https://www.facebook.com/TollericeTollers/
Site last updated on Sunday 18th November 2018