Voros
Erikachen Feidhelm at Tollerice, Nov Ex, RL2ex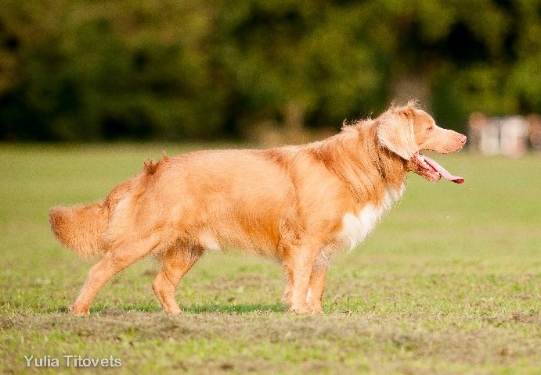 Callname: Voros
DoB: 14/05/2009
Sex: Male
Colour: Buff
Health Results
Hip Score: 13 (8/5)
Elbow Score: 0
Optigen Prcd-PRA and CEA clear by parentage
BVA Eye test: unaffected till April 2015

Heart Test: Clear (18/3/14)
Degernerative Myleopathy: Carrier
JADD (genetic marker): Carrier
Dilute colour test: d/d
Voros is a happy and cheerful young man. He loves playing tuggy, being with his humans and training (he likes to be 'doing' things).
Voros is a buff toller which means that he has the dilute gene giving him a washed out appearance, this doesn't impact on his health or temperament.
Voros has been competing in obedience for 7 years and he is currently competing in the top level C, he is the first Toller to become 'C only'. It is hopeful that he will be able to gain qualifiers for ticket.
Voros has represented the Western Inter-regional obedience team at Crufts 3 times, the last two times he came 2nd in his classes and in 2015 his team also came 2nd in the competition.
He also competes in rally and has gained his RL3 Ex title, not bad as we do very few rally competitions.
Pedigree
Hedera's For Alliance

Littleriver's Lapland Hunter

Can Ch Littleriver's Delhaven Dancer

Littleriver's Hunter

Littleriver's Tess

Littleriver's Cinnamon

Can Ch Littleriver's Cassey

Littleriver's Tippie

Hedera's Unique Pearl

Fin Ch Beinnbhreagh's Innes on Hedera

Can Ch Littleriver's Argus

Can Ch Ruaview Jewel of Beinnbhreagh

Hedera's Kustom Star

Aindow's Charlie

Hedera's Encore of Dilly

Narod The Impossible Dream

Decoymans I'am a Viking

Westerlea's Rodrav of Drogsta

Simonstorps Bell of the Ball

Narod Nereid

Ir Sh Ch Winfren Vulpaquila Cadian

Lyonhouse Ivy Stuart of Narod

Newfanova Jemima Bear at Camusmor

Nor Ch Sunlit Mac Jan

Nor Ch Westerlea's Canadian Rockies

Nor Ch FlyingTollers Sandy

Decoymans Piper of Iken at Newfanova

Harbourlights Scotia Duke of Lyonhouse (Imp)

Winfren Vulpecula Meg of Decoymans

Our Dogs